Mission Circuit, Memorial weekend 2017 brought us 3 great wins, JB was WD, BOW for his 4th major under Doug Johnson! Cache was WD under Pluis Davern for another 2 points and Sally (Daytona's sister) was WB under Doug Johnson for 2 points.
Photos to come....
AWC 2017 To say it was memorable is a huge understatement!! Each and every one of the dogs made me proud but JB and Stella were the BIG winners! JB, was WD in an outstanding lineup under breeder judge Harold "Red" Tatro! Stella, owned and loved by the Fontain's was Best Altered!
June 9 and 10 2012 Charger pups have the weekend of a lifetime! Mary is WB/BOW/BOS for a 4 point major under Ruth Darlene Stuart at Flagstaff KC shown by Angie. Mary also went BPIG! Fanny, ElainWard N Festiva's SuperBowl Sunday is WB for her first point in Canada under Jon Cole shown by her new owner and friend Richer Poissant (She was BIM and BPIM the previous day too). And.... Reggie, ElainWard N Festiva's Rush the Passer, owned by Julie and Barb Hall was WD both days in La under Barbara Dempsey Alderman and Prudence Hlatky
May 31, 2012 Daisy, Am/Can Ch. Festiva's No Excuse is BOB/ BIG and BIS!!!!! Huge thanks to John Binks for this honor. Keegan, Lorricbrook Celtic HotShot, owned by Sherry Hamilton and Kelly was also WD and BOW!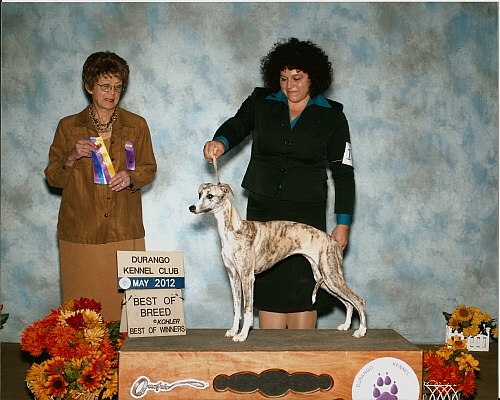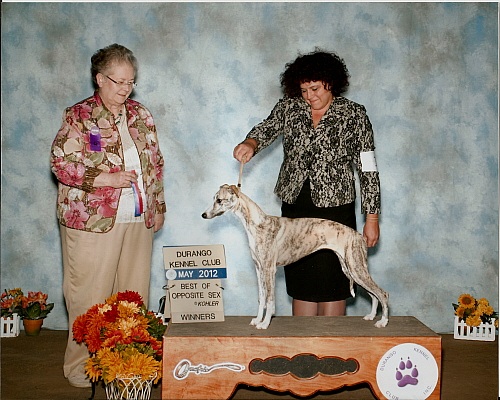 Mothers day weekend brought success for Reggie, Elain-Ward N Festiva's Rush the Passer. He was WD/BOW at his first show under Luane V Williams.
3/22/2012 Charger x Stinker puppies are born! 5 girls and 2 boys. See the litter page for more information.
Charger x Sprite litter - puppies available and ready to go home, see the litters page for more information.
October 30, 2011 - Salsa finishes her AKC championship with her 3rd major. Thank you Ms. MaryLou Harris for this fantastic win.
September 2011 - Steven WINS!! Bundessieger Tulln (Austria) - BOB - Group 1 - 2nd BIS
July 2011: Steven makes the trip to Italy and goes BOS at his first show then RCICIB at the World Dog Show in Paris. Have fun Arnaldo and Annalisa!
5/21/2011 New Champion!!! Festiva's Hot Chick "Kelley" Mr Gary L. Anderson awarded her WB and BOW for 2 points completing her title. Thanks Mr. Anderson!
Whippet National 2011..... Daisy RWB! Thank you Harriet for the honor. Lucy, Daisy's sister received an AOM, again Harriet, thanks for recognizing another one of our lovely girls. Charger was 2nd in the futurity under Cal Perry and in the last cut of 8 in a VERY competitive BBE dog class. Thanks to all who still make it a point to say how much they like him! Splash, Chargers brother was 4th in futurity and also made the cut in 9-12.
3/5/2011 Breeder judge David Samuelson awards Salsa BOB/BOW/WB for a 4 point major in Scottsdale AZ. Thanks David for such a memorable win! Salsa needs only 1 single to finish!
1/9/2011 Mrs. Donna J. Francis awarded Charger RWD at the large Palm Springs show. Thanks so much for recognizing such a young boy in a very nice entry. Salsa, his dam, was best bred by that same day.
12/12/2010 A big thanks to Linda C More for awarding Salsa WB for 2 points at Shoreline, she now has 11 points with 1 major.
December 2010 Charger attends his first dog show in Yuma. WD and Best Puppy under Charles C. Scott for 1 point. He then went on to a Puppy group 3 under Debra Thornton. Thanks to both for a wonderful first experience! Since then Charger has been RWD and three other shows and we look forward to 2011!
YOU are ALL invited to a Puppy Party The entire Sun litter will be with me at Lompoc and will be 8 1/2 weeks old. Friday after judging (7/31/2010) is concluded everyone is invited to attend. There will be puppies, evaluations, drinks and cake.
7/15/2010 6 week photos of the Sun litter are up! Click the link from the litters page.
6/2/2010 Salsa's puppies are born. See the litters page for more details.
11/15/2009 Steven is now American-Canadian CH. Festiva's Been There Done That
12/2/2009 Suede, CH. Festiva's The Jury's Been Suede is due in two weeks. We are expecting at least 4 but looking like LOTS more. Stay tuned for the event.