Ch. Festiva's It Wasn't Me
"Justin"

Born: August 27, 2005
Breeders: Katie Rudolph & Susanne Hughes
Owners:
Cerf: Normal
Heart Test: Normal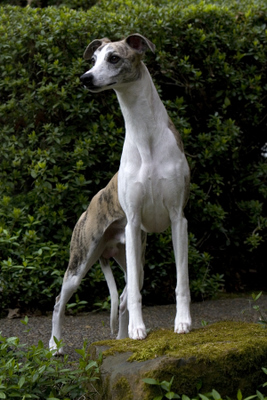 Justin is one of 4 puppies in Qís first litter. Kelly picked him out from his baby pictures. Just like when Nick was born, I did not want to keep a male! So, I sold him to a long time breeder that wanted to get back into dogs. As Justin grew and was not picked up I got attached. The weekend he was supposed to leave things happened and his new owner was not able to make the trip. By that time I had decided that it was time for Justin to stay at Festiva. During his short show career Justin was co-owned by Kelly Rudolph and Suzy Hughes.
Justinís first shows were the Raleigh circuit in March at 7 months with Kellyís best friend and handler, Amy Rodrigues assisted by Phil Booth and Aaron Wilkerson. To Amyís surprise, Justin was thrilled with the outing and surprised everyone by winning WD at his first 3 shows for a total of 13 points, 3 majors. He was entered one more day and we where hoping that he would go 4 straight but Justin decided that now it was time to be a puppy and bounced around the ring. That was OK; we knew he would have his day. With only two more weekends out plus the National, he traveled to Bel Alton, Maryland with his owner Suzy to win another 3 point major to finish under Paula Nykiel. It was a whirlwind finish at the young age of 11 months with 4 majors.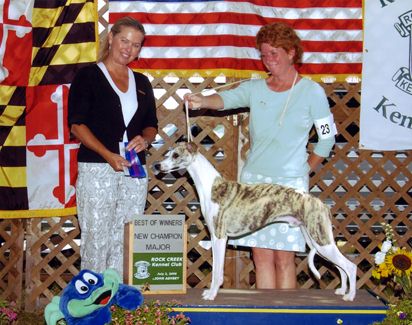 Justinís Finishing
Christmas Cluster in Winston-Salem
Handled by Chris Durance
Pedigree

Parents
GrandParents
GreatGrandParents
SIRE

CH. Wenrick's Man About Town

CH. Sportingfields Jazz Fest, ROMX

CH. Topaz Jazz Singer, ROM
Sporting Field Simplicity
CH. Sportingfields Rea N'Wenrick
CH. Sporting Fields Kinsman, ROMX
CH. Sporting Fields Chosen One

DAM

CH. Festiva's What's Your Excuse

CH. Festiva's Knickerbocker, ROMX
CH. Locar's Martini On The Rocks, ROMX
CH. Oxford's Passion, ROM
CH. Sowagla Masquerade
CH. Surrey Hill Rogue of Chelsea, ROM
Lyon's-Surrey Hill's Scarlet