Sapphire of S.K.V.
"Phire"
Sire: Am. JP Ch. Paka's Batoto Yetu
Dam: Return Teresa of Honda II
Whelped: April 2 2003
Hips: SH-16544G57F-NOPI CERF: SH-8838


Phire arrived in the United States when she was 9 months old. She was a thank you gift from Koichi Sakuma in Japan, who had leased "Toto" her sire from Leon Parker. She was then a gift to me, from Leon, for all I had done while presenting "Toto". Thanks Leon!
Phire is a very special Siberian. She is so much like her sire it is incredible, his attitude, his loyalty and his conformation. She has been shown very little as we had much training to do after I got her back in August of 2006. She overcame the obstacles and hit the ring in 2007 were she picked up a few singles. She went to California for the Mission Circuit in 2008 and picked up a huge major at the supported entry!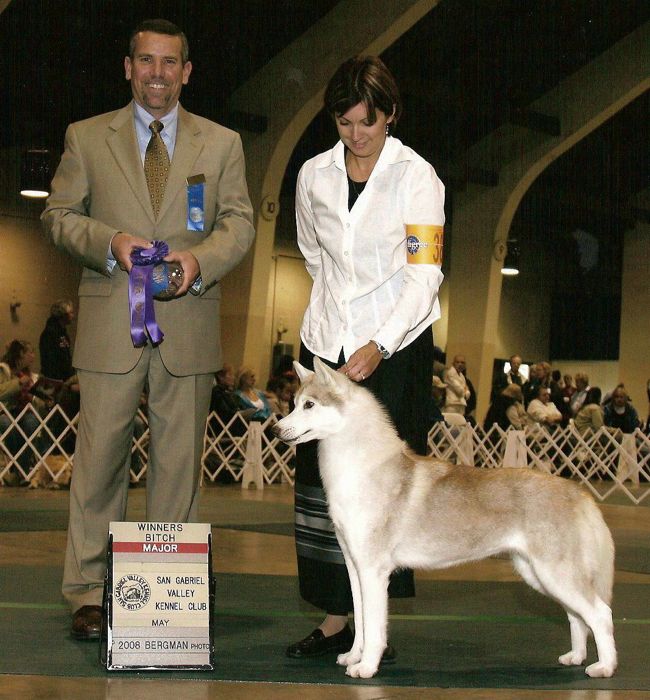 Phire took some time off to have puppies as she turned 5 in April of 2008. Her first litter resulted in two lovely boys. She was bred again in January of 2009 to Ch. Kayak's Wild Bleu Yonder and blessed us with 7 furbabies! We could not be more pleased with the results of this cross.
Button to puppy page
Phire will return to the ring in the Fall of 2009 to finish her American Championship before being bred one last time in 2010.
Pedigree
Dam
Sapphire of S.K.V. "Phire" Imp. JP Mjr. Ptd. Red
Sire
CH PAKA'S BATOTO YETU "TOTO" Grey
Sire
PAKA'S LAKOTA DANCER
Sire
CH SUNSET HILLS ZUNI OF PAKA "Zuni" Grey
Dam
PAKA'S ARCTIC ENDEAVOR
Dam
PAKA'S CHATANIKA "Chata" Grey
Sire
SUNSET HILLS KARAFAST KODIAK
Dam
BAIRCRESTS COALMINERS TAMI
Dam
RETURN TERESA OF HONDA II JP
Sire
CH GAUGE GOLDEN EYE OF SKV Grey
Sire
CH DARDIANS DANCEY'S DREAM
Dam
RETURN MARILYN OF SKV JP
Dam
SAMBA TU CODA OF AKM HUSKIES JP
Sire
CH TULLEMORE'S ALL IN THE FAMILY
Dam
DANCEY QUEEN ELISE OF SKV JP